Alto Golf Course details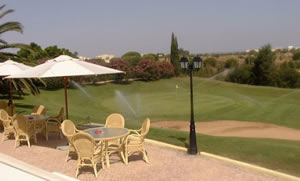 Architect Sir henry Cotton Course Details Number of Holes 18 / Length 6,125 / Par 72 Facilities Driving Range Putting green Practice bunker Bar / Restaurant Resident Professional Golf shop Directions Turn off the EN 125 towards Alvor.
On the Portimão - Alvor road, turn right at the turn for Praia de Rocha Handicap required Men: 28 / Women: 36
Alto Golf runs through two valleys, and was the last to be designed by Sir Henry Cotton. Its hole number 16, one of the longest in Europe and for that reason named The Giant, is a 604 metres for a Par 5. Text provided by the Portuguese Tourist Office

Alto Golf is situated near the picturesque village of Alvor. Extraordinary white sandy beaches, clear blue sea and fascinating cliffs are part of its charm. This was the last course designed by the legendary Sir Henry Cotton, the triple winner of the British Open.
It embodies his belief that a golf course should test players with mes4 handicaps, but also provide a pleasant game for golfers of only average ability. After his death, the project was continued by Peter Dobereiner, a well known golf journalist.

The course, with the beautiful Monchique mountains as its backdrop, runs through two valleys and offers winding fairways and gently undulating greens.

On the first nine holes players have the added pleasure of enjoying an excellent view over Lagos Bay. The last nine holes face inland, running through gentle mountain slopes to include hole number 16, which is said to be the longest hole in Europe: 604 metres for a Par 5. Any player who manages a birdie here will receive a certificate and his or her name will be inscribed on the club's roll of honour. All the other holes on the course are named, but this one has a special title: The Giant.