Gualta, Girona
Golf Pitch & Putt Gualta Course details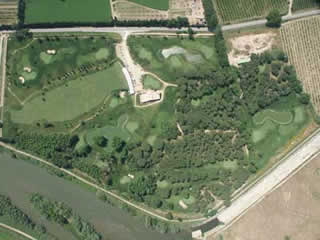 Course
Golf Pitch & Putt Gualta
18 holes, Par 72
Golf P&P Gualta combines the design and technical features of a traditional 18 hole golf course with the distances of a par 3 short course. The result is a marvellous new golf offer situated in the heart of the Empordan region of Catalonia.
The course consists of 18 par 3 holes of varying lengths between 60 and 115 metrs. The picturesque layout with its large lakes, trees and bunkered greens make the golf round of about 2 hours to a testing challenge for players of all abilities. And for a warm-up before play, the excellent practice facilities include a covered and illuminated driving range, putting green, chipping/pitching green and practise bunker area. Experienced, multilinguistic Club teaching professionals offer a large variety of beginner and intermediate courses for individual or group tuition. Pros are welcome to use the installations for
their own group tuition.
Practice Facilities: extensive driving range of 250 metres allowing practise and swing improvement using all clubs. 22 play off mats, 15 of which are protected from the sun and the rain under a pergola which sustains an installation of solar plate collectors. The practise area also includes a bunker for the more difficult shots, a short game pitching area and a large 18 hole putting green situated just in front of the Club house. An additional tee-off and approach zone is under construction on the opposite range side.
Handicap restrictions: None